In this computer animated sci-fi epic from Lucasfilm Animation, The Clone Wars are raging between the Separatists and the Galactic Republic. When Jabba the Hutt's baby son is taken by a group of renegades, Yoda summons Anakin Skywalker and his apprentice, the overeager Padawan learner, Ahsoka Tano. He sends them along with Obi-Wan Kenobi in search of answers: where have they taken Hutt's baby, and who is controlling this mysterious renegade group?
Strained attempts at comedy are reserved for the constant bickering between Anakin and Ahsoka, who form something of a bizarre dysfunctional family along with the Hutt-let. Obi-Wan duels Asajj Ventress, and Anakin finds himself dueling Count Dooku once more. Meanwhile, the Sith plan to instigate a three-way war that includes the Hutts.
There are only a few familiar voices from past Star Wars films, but they are a welcome addition. Samuel L. Jackson is Mace Windu, Christopher Lee is Count Dooku and Anthony Daniels is still the voices ofC-3PO. But this is basically a feature-length promo for the upcoming TV series of the same name, due imminently on you TV screens.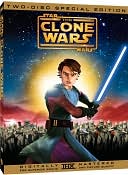 VOICES:
Matt Lanter ... Anakin Skywalker
Ashley Eckstein ... Ahsoka Tano
James Arnold Taylor ... Obi-Wan Kenobi
Dee Bradley Baker ... Captain Rex
Tom Kane ... Yoda / Narrator
Nika Futterman ... Asajj Ventress
Ian Abercrombie ... Chancellor Palpatine / Darth Sidious
Corey Burton ... General Loathsom
Catherine Taber ... Padme Amidala
Kevin Michael Richardson ... Jabba the Hutt
David Acord ... Rotta the Huttlet
Samuel L. Jackson ... Mace Windu
Anthony Daniels ... C-3PO
Christopher Lee ... Count Dooku