Running Time:
1 Hour 34 Minutes
Rating: PG Parental Guidance Suggested.

Rating Explanation:
or sci-fi action, some crude humor and mild language.
Additional Info:
DVD Features:

Closed Caption; Monsters vs. Aliens: Modern Monster Movie Making; Three never-before-seen deleted scenes; DreamWorks Animation video jukebox; Filmmaker's commentary; The tech of Monsters Vs. Aliens; Top secret sneak peek files: The Next 3D adventure from DreamWorks Animation; Shrek Boradway musical debut; Po's Kung Fu Panda virtual world
I
n this visually stunning animated film, Susan Murphy (voice of Reese Witherspoon), a young woman is clobbered by space junk just as she's about to marry a self-obsessed TV weatherman named Derek (Paul Rudd) in California. Her life suddenly catapults into a non-reversible state when she grows to a ginormous 49-feet-11-inches tall. The military puts her into a secret government compound, renamed Ginormica and hold her captive along with a ragtag group of rogue Monsters including the brilliant but insect-headed Dr. Cockroach, Ph.D. (Hugh Laurie); the macho half-ape, half-fish, The Missing Link (Will Arnett); the gelatinous and indestructible B.O.B. (Seth Rogen); and a chillingly eerie four-eyed megalomaniac leader (Rainn Wilson) whose cloning commands offer some entertaining moments.

When a wild and dangerous alien robot lands on Earth, The President (Stephen Colbert) enlists this motley crew to save the world from imminent destruction. There's plenty to keep youngsters and their parents engrossed with broad visual comedy, sharply conceived satire and a simple story about the friendship between motley outcasts who inadvertently save the world.


Despite it's dazzling effects,
Monsters vs. Aliens is
basically a mixture of 1950's B-movies, like It Came from Outer Space, The Blob and Attack of the 50 Foot Woman,
and not anything approaching art, but nevertheless it's clever, colorful and immensely entertaining and the kids should really enjoy it.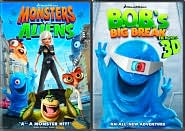 Some of the other voices you'll probably recognize are:
Kiefer Sutherland as General Monger
Jeffrey Tambor as Carl Murphy
Amy Poehler as C
omputer
Renée Zellweger as Katie
John Krasinski as Cuthbert