Running Time:
1 hour, 28 minutes
Rating: PG-13 Parents Strongly Cautioned.

Rating Explanation:
for some for violence and scary images.
Additional Info:
DVD Features: The look of 9; Acting Out; Feature commentary with writer/director Shane Acker, animation director Joe Ksander, head of story Ryan O'Loughlin and editor Nick Kenway; 9 - the original short.

Featuring the voices of:
Christopher Plummer ... #1
Martin Landau ... #2
John C. Reilly ... #5
Crispin Glover ... #6
Jennifer Connelly ... #7
Fred Tatasciore ... #8
Elijah Wood ... #9
Alan Oppenheimer ... The Scientist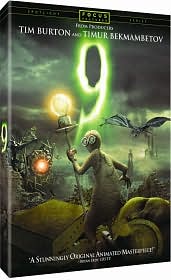 This animated adventure begins after a war between humans and their machines has destroyed most of the world. A bunch of puppets-like rag doll robots have inherited what's left of the earth. Originally, there were nine of them, but their n
umber has dwindled. Now, with the last of the group, Number 9 (voice of Elijah Wood) awakened, they are as complete as they ever will be. However, before 9 can be introduced to his fellow robots, he finds himself in dire straits. He is rescued by Number 2 (Martin Landau), but then 2 is carried off by a dangerous mechanical beast. 9 wants to rescue 2, but the suggestion is vetoed by Number 1 (Christopher Plummer). He goes anyway, accompanied by 5 (John C. Reilly) and 7 (Jennifer Connelly). What they discover and do on their journey results in the re-awakening of the great machine whose activation started the great war.

Although the attention to detail isn't quite equal to what we saw in WALL-E, there are some appropriately bleak blasted cityscapes and the metallic predators are suitably menacing. The main characters human-like shapes and voices allow us to readily identify with each of them. It doesn't much matter that their faces are made out of burlap and they have zippers down their fronts.

Director Shane Acker is making his feature debut with this expanded version of his similarly named 2005 Oscar-nominated animated short. Along with producers Tim Burton ("The Nightmare Before Christmas") and Timur Bekmambetov ("Wanted"), he has made an imaginative and visually spectacular film that moves along at a breakneck pace. It is perfect choice to entertain all but the youngest audiences who might be somewhat frightened by some of the violence.