Running Time:
1 hour, 30 minutes
Rating: PG Parental Guidance Suggested.

Rating Explanation:
for brief mild language.
Additional Info:
DVD Features: Flint's food fight game; "Raining Sunshine" music video by iCarly's Miranda Cosgrove; Interactive "Raining Sunshine" sing-a-long; Behind the scenes of Miranda Cosgrove's "Raining Sunshine" music video; Directors' commentary with Bill Hader; Key Ingredients: the voices of Cloudy With a Chance of Meatballs; Progression reels with introductions by visual FX supervisor Rob Bredow; Extended scenes; A recipe for success: the making of Cloudy With a Chance of Meatballs; DVD-ROM link to exclusive online fun.

With the voices of
Bill Hader as Flint Lockwood
Anna Faris as Sam Sparks
James Caan as Tim Lockwood
Andy Samberg as 'Baby' Brent
Bruce Campbell as the Mayor
Mr. T as Earl Devereaux
Benjamin Bratt as Manny
Neil Patrick Harris as Steve
Al Roker as Patrick Patrickson
Will Forte as Joe Towne
Lauren Graham as Fran Lockwood
This eye-popping, colorful computer-animated 3-D extravaganza has a fantastical story that deals with some really serious issues. But it never gets preachy, and its whimsical humor will keep adult audiences chuckling throughout.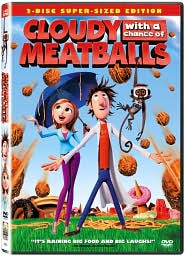 Geeky inventor Flint (voiced by
Bill Hader
) has finally created something that will make him famous: a machine that makes food from water. When it's inadvertently catapulted into the clouds, it starts raining cheeseburgers, much to everyone's delight. Now famous, he programs the machine to rain everything from ice cream to spaghetti and meatballs. While Flint's dad (
James Caan
) doesn't really get him, the greedy mayor (
Bruce Campbell
) wants a piece of his success. Meanwhile, Flint meets weather reporter Sam (
Anna Faris
), who actually seems to understand him.
Directors Phil Lord and Chris Miller (co-executive producers of "How I Met Your Mother") somehow manage to keep the film totally silly, with outrageous visual flourishes and zany comical asides, while maintaining a sharp intelligence beneath the surface. As a result, grown-ups will probably find the film even funnier than kids, who will be entranced by the visual antics but miss much of the the sophisticated wit.
Even minor characters like Earl Devereaux supercop (Mr. T) and Matty, the Guatemalan cameraman (Benjamin Bratt) have terrific moments, while Flint's relationship with his dad has a surprising reality. And along the way, there are some excellent sequences that combine both goofy humor and awkward emotion with just a hint of unhinged weirdness. And as global chaos threatens to erupt, the film develops into a hysterical disaster movie satire that's brilliantly animated and, for once, makes full use of it's 3-D effects sending everything flying right into our faces.