Running Time:
1 hour, 28 minutes
Rating: PG Parental Guidance Suggested.

Rating Explanation:
for rude humor and some mild action.
Additional Info:
DVD Features: Closed Caption; "Log Sliding" Interactive Game; "Wolves in the Wild" Featurette; The Alpha of Animation; Voicing the Wolves; From Alpha to Omega; Personality Test: Are You an Alpha or an Omega?; Animal Fun Facts Trivia; Deleted Scene; Trailer Gallery.

Featuring the voices of
Justin Long ... Humphrey
Hayden Panettiere ... Kate
Dennis Hopper ... Tony
Danny Glover ... Winston
Larry Miller ... Marcel
Eric Price ... Paddy / Mooch
Vicki Lewis ... Eve
Chris Carmack ... Garth
Kevin Sussman ... Shakey
Brian Donovan ... Salty
Christina Ricci ... Lilly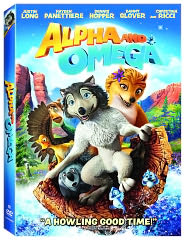 In this animated adventure, Kate (voice of Hayden Panettiere) and Humphrey (voice of Justin Long) are two Northwestern Canadian wolves displaced by park rangers who ship them off to Idaho. Kate is an alpha being groomed for leadership and who expects less than nothing from the fun loving Humphrey. With hunting territory at a premium, their pack faces a challenge from the encroaching Eastern wolves. In an effort to unite the packs and prevent war, leader Winston (Danny Glover) has promised his eldest daughter, Kate, to the son of Eastern leader Tony (the late Dennis Hopper).

The film gains some momentum when park rangers relocate Kate and Humphrey to Idaho to repopulate Sawtooth National Forest, an agreeable prospect to the smitten Humphrey. But Kate's sense of duty puts them on a road trip back home so that she can marry alpha Garth (Chris Carmack), according to plan. While they're stowing away on motor homes and trains, overcoming rainstorms and bears, responsible Kate learns to have fun and nice-guy Humphrey proves he can be a competent protector. Back home, Kate's little sister, Lilly (Christina Ricci), a shy omega with pale violet eyes, falls for fitness showoff Garth, a romance that has more spark than the central one, which is too clearly foretold from the start.

There is some humor in the repartee between a French golfing goose (Larry Miller) and his English duck factotum (Eric Price), but Alpha and Omega takes too far long to find its footing and at best it's amusing, but it is hardly exhilarating. It's the youngest moviegoers who will get the biggest kick from the 3D effects, but for families on an entertainment budget, they're not special enough to warrant the extra cost.


To order tickets: