Running Time:
1 hour, 36 minutes
Rating: PG Parental Guidance Suggested.

Rating Explanation:
for mild off color humor
Additional Info:
featuring the voices of:
Jesse Eisenberg ... Blu
Anne Hathaway ... Jewel
Jamie Foxx ... Nico
Will i Am ... Pedro
Wanda Sykes ... Chloe
Jane Lynch ... Alice
Rodrigo Santoro ... Tulio
Gracinha Leporace ... Dr. Barbosa
Phil Miler ... Aviary Intern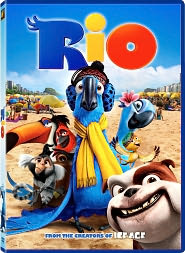 In this colorful computer animated adventure, a tropical parrot called Blu (voiced by Jesse Eisenberg) who was taken from the forest by smugglers even before he could learn to fly, improbably wound up in Moose Lake, Minnesota where he becomes the pampered pet of mousy bookshop owner Linda (Leslie Mann). Their life as a couple is interrupted by the arrival of Tulio (Rodrigo Santoro), who tells Linda that Bluís the last male survivor of an endangered species and wants to take him to Brazil to mate with the last female, Jewel (Anne Hathaway).

Itís a mismatch between wimpy, nervous Blu and aggressive, bossy Jewel, but that's quickly forgotten when theyíre snatched by another team of smugglers headed by Marcel (Carlos Ponce), whose nasty henchman is a wild-eyed cockatoo called Nigel (Jermaine Clement). They escape, but chained together, and so their flight is flightless, but happily they encounter a few friends who help them along: a toucan named Rafael (George Lopez), a canary/cardinal slapstick team called Nico and Pedro (Jamie Fox and will.i.am) and Luiz (Tracy Morgan) a drooling bulldog.

After a chase that goes on at a furious pace for more than an hour, some sprightly musical numbers and an array of typically goofy supporting players what it all adds up to a middling computer animated comedy that's neither great nor terrible - just mediocre. Happily itís preceded by another high-octane short featuring Scrat, the best character from the Ice Age movies. Too bad that Rio just doesnít quite measure up.
To order tickets: