Running Time:
1 hour, 32 minutes
Rating: PG Parental Guidance Suggested.

Rating Explanation:
for sequences of martial arts action and mild violence.
Additional Info:
Featuring the voices of:
Jack Black as Po
Angelina Jolie as Tigress
Gary Oldman as Lord Shen
Seth Rogen as Mantis
Jackie Chan as Monkey
Dustin Hoffman as Shifu
David Cross as Crane
Lucy Liuas Viper
Dennis Haysbert as Master Oxen
Jean-Claude Van Damme as Master Croc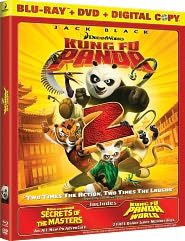 Picking up where
Kung Fu Panda
left off, Po (Jack Black) has taken over as the Dragon Warrior, when the world of kung fu is threatened by the return of Lord Shen (Gary Oldman), a villain who has built a weapon of mass destruction. What Po doesn't know, however, is that Lord Shen holds the key to his history and the knowledge of who he really is. Working with the kung fu masters known as the Furious Five (Angelina Jolie, David Cross, Lucy Liu, Seth Rogen and Jackie Chan), Po is not only on a mission to save China, but on a journey of self-discovery.

The most impressive thing about Kung Fu Panda 2 is the way in which it takes adult themes, including fate, revenge and identity, and makes them accessible to a family audience without lessening their impact. Those still wondering how a goose (James Hong) ended up being the father of a panda will laugh during their confrontation, but they'll also feel powerful emotions when flashbacks reveal where Po really came from. The film never pulls its punches and instead of allowing audiences to question whether this material is appropriate for a family film, they will instead admire its willingness and ability to push boundaries.

The addition of 3D, which, while unfortunately reduces the movie's brightness, is used to otherwise wondrous effect. The 3D effects accentuate both the settings and layers the characters in a way that doesn't make them look like cardboard cutouts, but instead, like fully-formed beings. The only problem is that what seems to be lacking in
Kung Fu Panda 2
is humor. There are not a lot of laughs, but the kids will hardly mind because they'll find that there's a lot of action plus it's also a treat for the eyes and the heart.

To order tickets: