Running Time:
1 Hour 36 Minutes
Rating: PG Parental Guidance Suggested.

Rating Explanation:
for scary sequences and images.
Additional Info:
Extra DVD Features: Capturing Dickens: A Novel Retelling -- Journey Through The Creative Process And See How This Time-Traveling Holiday Ghost Story Came To Life; On Set With Sammi - A Kid's Eye View Of An "Anything-But-Average" Day; Deleted Scenes.

CAST:
Jim Carrey ... Scrooge
Gary Oldman ... Marley/Bob Cratchit
Colin Firth ... Fred
Bob Hoskins ... Fezziwig
Fionnula Flanagan... Mrs. Dilber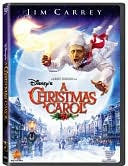 Ebenezer Scrooge (Jim Carrey "Liar, Liar") denies his ever-suffering clerk Bob Cratchit (Gary Oldman "The Dark Knight") Christmas Day off, and is so antisocial he refuses a Christmas dinner invitation from his nephew Fred (Colin Firth " Mamma Mia!"). Later that night, the stingy old accountant is surprised by three ghosts who separately present him with emotionally telling snapshots from his own life -- past, present and future -- which fill the grumpy old grouch with regret, fear and an overwhelming sense of the error of his ways. This is a familiar story, but an excellent Christmas tale as well, which is why it has never faded from sight through the generations.

Besides playing Scrooge, Jim Carrey also gives voice to the three ghosts: of Christmas Past, Present and Yet-to-Come and Gary Oldman, Bob Hoskins ("Who Framed Roger Rabbit") and Cary Elwes ("The Princess Bride") are also present as multiple additional characters. The
animated faces given Oldman, Firth and Robin Wright Penn ("Moll Flanders"), who appears as Scrooge's youthful love, are all
relatively bland and featureless,
but they are all nevertheless appropriate to the spectacle.
Using the performance-capture technique that he utilized in Polar Express and Beowulf, director Robert Zemeckis has added 3D to his bag of tricks, to bring us this latest version of this oft-told Charles Dickens 1843 novella. But as soon as you don those 3D glasses, you'll notice a distinct diminishment in brightness, but that's beside the point - the kids will hardly notice.
Disney's A Christmas Carol is quite simply a showy, exuberant demonstration of the glories of motion capture, computer animation and 3D technology. On that level, it's dazzlingly entertaining. But, on any emotional level, it's about as exciting as a Christmas pudding.