Running Time:
1 hour, 34 minutes
Rating: PG Parental Guidance Suggested.

Rating Explanation:
for some rude humor and language.
Additional Info:
CAST:
Zachary Gordon ... Greg Heffley
Robert Capron ... Rowley Jefferson
Rachael Harris ... Susan Heffley
Steve Zahn ... Frank Heffley
Connor Fielding ... Manny Heffley
Owen Fielding ... Manny Heffley
Devon Bostick ... Rodrick Heffley
Chloe Moretz ... Angie Steadman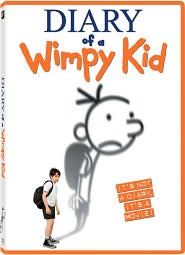 Greg Heffley (Zachary Gordon "Four Christmases"), is a wise-cracking middle school student trying to make it in a world of
sixth graders
, his dorky friends and perhaps scariest of all - preteen girls. After failed attempts to change his friends and his life, Greg manages to alienate himself from everyone in his class.

Greg continues making the wrong decisions at every possible moment creating major rifts between himself and his nerdy friends. Greg's best friend Rowley (Robert Capron "Bride Wars") is mentally stuck in elementary school, refusing to trade in his look, his "Joshie" bike, and his love for his mom for the fame and recognition the super-naive Greg keeps promising. He's hilariously oblivious to the real world and it almost always makes for some big laughs. The lover-boy of the group is Fregley (Grayson Russell
"Talladega Nights: The Ballad of Ricky Bobby"
), with his glasses as big as his head and the reddest hair you've ever seen. Every line he delivers is hilarious. From something as simple as when he sits on the floor with the "cool kids", to when he loudly proclaims, with his shirt raised, that his mole has a hair in it. He manages to steal every scene he's in. And representing the girls, we have
Chloe Moretz (Angie Steadman "
(500) Days of Summer"
) who beside being
the voice of reason is
a pretentious know-it-all.


Diary of a Wimpy Kid, is b
ased on
the best selling book by Jeff Kinney.
Director
Thor Freudenthal
("Hotel for Dogs") has inventively mixed in some clever animation (based on the book's illustrations) with the live action sequences. Seeing the animation draw itself onto the screen never feels distracting, forced, or overdone. It's used just the proper amount to remind kids of their favorite book, and it conveys its message through the use of simple stick figures. It's
inventive,
amusing, and most of all a reminder that no matter how old we are, we were kids once, and most of us went through the same thing these kids are going through now. If you and your kids enjoyed the book, you'll like this little film, as well.