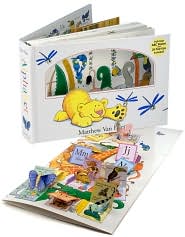 From School Library Journal:
PreS-Gr 2- Captioned with a Boynton-esque rhyme-"Striped I guanas climb,/Spotted J aguars pounce,/Playful baby K angaroos-/bounce, bounce, bounce!"-this A-to-Z menagerie of frisky, dot-eyed cartoon animals sports an array of special features, including moving parts, flaps, holes, foldouts, and a large pop-up alphabet poster in a rear pocket.
Many of the animals also come with textured surfaces, from areas of shiny foil on the Parrotfish and sticky tentacles on the Octopus to a mop of fluff atop the Yak's head. As the poster is designed to be removed, and some of the push-tab action is powered by rubber bands, this won't have a long shelf life-but it's supercharged with child appeal and offers an irresistible invitation to touch, rub, lift, and pore over every crowded, colorful spread.