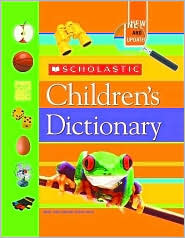 Designed primarily for 9-to-12-year-olds, the
Scholastic Children's Dictionary
features sample sentence, easy-to-master pronunciation guides, word histories, synonym boxes, cross-references, illustrations, photos, language notes, maps, flags, and a grammar and punctuation guide -- in all, 672 pages of essential information.
The Scholastic Children's Dictionary has been revised and updated for the first time in five years. The revision includes:
--16 new pages of back matter, including a grammar and punctuation guide, photos of the presidents, a map of the continents, a map of Canada, and more!
--Dozens of new and updated entries
--Photos of several of the new entries
--A fresh new cover design in the same style as the revised Scholastic First Dictionary, the Scholastic Children's Thesaurus and the Scholastic Children's Encyclopedia. This will give the Scholastic Reference line a cohesive look.