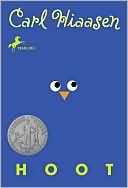 Carl Hiaasen
, a columnist for the Miami Herald and the author of many best-selling novels for adults about the wild and wacky side of the state of Florida, offers his first novel for younger readers. It's about a boy named Roy, who is new to his small Florida community. Unfortunately, Roy's first acquaintance in Florida is Dana Matherson, a well-known bully. Then again, if Dana hadn't been sinking his thumbs into Roy's temples and mashing his face against the school-bus window, Roy might never have spotted the running boy. And the running boy is intriguing: he was running away from the school bus, carried no books, and -- here's the odd part -- wore no shoes. Sensing a mystery, Roy sets himself on the boy's trail. The chase introduces him to potty-trained alligators, a fake-fart champion, some burrowing owls, a renegade eco-avenger, and several extremely poisonous snakes with unnaturally sparkling tails. Roy has most definitely arrived in Carl Hiaasen's Florida.
From School Library Journal
Packed with quirky characters and improbable plot twists, Hiaasen's first novel for young readers is entertaining but ultimately not very memorable. Fans of the author's adult novels will find trademark elements-including environmental destruction, corrupt politicians, humorous situations, and a Florida setting-all viewed through the eyes of a middle-school student. Roy Eberhardt has just moved with his family to Coconut Cove. He immediately becomes the target of a particularly dense bully who tries to strangle him on the school bus. Roy seems more concerned, however, with discovering the identity of a running, barefoot boy he spots through the window of the bus. Meanwhile, plans to build a pancake house on a vacant lot are derailed when someone vandalizes the construction site. The two story lines come together when Roy discovers that the runaway boy is disrupting the construction to save a group of burrowing owls. Roy must help his new friend, nicknamed Mullet Fingers, as well as fend off the bully and adapt to life in Florida. The story is silly at times but rarely laugh-out-loud funny, and there are several highly unlikely scenes. Also, it wraps up a little too neatly-Roy's classmates join him to protest the construction project, his father finds the missing environmental impact report, and the owls are saved. While Roy is a sympathetic protagonist, few of the other characters are well developed. Students looking for humorous, offbeat characters and situations will probably prefer Louis Sachar's
Holes
(Farrar, 1998) or books by Daniel Pinkwater.-Miranda Doyle.