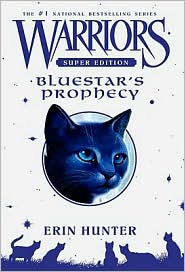 Synopsis
In the midst of ThunderClan, a kit is born. According to a prophecy, blue-grey she-cat Bluekit will possess a firelike power that win her a dominant place in her Clan's ranks, but even that gift can not protect her from one swift foe. The second Warrior Super Edition novel will enthrall you with its feline strength and mythological aura.

Erin Hunter is the nom de plume of three British writers who create enthralling, animal-centric YA fantasies in the tradition of Brian Jacques's Redwall books. In 2003, they launched their bestselling Warriors series with Into the Wild, the story of a domesticated kitten who leaves the comforts of his human home to join a family of feral cats living in the woods. Introducing a captivating world where rival cat clans struggle for survival, the book was an immediate sensation with animal- and adventure-loving preteens. Since its debut, Warriors has become a genuine publishing phenomenon, spawning a string of six-book miniseries, each with its own distinct story arc.
The Erin Hunter collaboration is an unusual but highly successful one. Characters and story ideas emanate from editor Victoria Holmes, who keeps track of previous plot lines, ensures continuity, and coordinates the details of a complex and growing cast of characters. Kate Cary and Cherith Baldry take turns writing individual books; then everything is vetted again through Holmes, who checks carefully to make sure the stories are told in a single, unified voice. With different writing styles at work, this would seem a daunting task. However, in a 2006 interview, Holmes explained her modus operandi: "I think of it as being able to "speak Erin Hunter", like speaking a different language, and after working on [so many] scripts, I know pretty much at once if a line or phrase doesn't sound right."
Although the Erin Hunter books are written for young readers, they do not shy away from difficult material. The animals face life-threatening dangers and experience pain, grief, and loss -- sometimes even treachery within their own ranks. But the authors are always careful to reinforce positive messages about family, friendship, loyalty, and love. Independently, Holmes, Cary, and Baldry stay busy with their own writing and editing projects; but in 2008, they reunited for a second animal fantasy series. Seekers: The Quest Begins features a trio of bears from different species (black, polar, and grizzly), who join together for an adventure-filled odyssey that will change their lives forever.